KaleidEO successfully demonstrated deep learning based algorithms to analyze imagery in-orbit
The technology will address national security needs, enable real-time disaster response by governments and improve effectiveness of insights generation with EO imagery
This development aligns with KaleidEO's aim to launch a fleet of four satellites in 2025
Bengaluru - 12th September, 2023 – KaleidEO Space Systems, a startup based out of Bengaluru and subsidiary company of SatSure Analytics India Pvt Ltd, has become the first Indian company to demonstrate the power of Edge computing in space, by successfully generating insights from an image taken by an orbiting satellite in real-time.
The team at KaleidEO has successfully demonstrated deep learning based algorithms to analyze imagery in-orbit, as captured by Satellogic - a satellite constellation and data provider company based out of Montevideo, Uruguay. The hardware to run the algorithms and implementation support was provided by KaleidEO's partner Spiral Blue, a startup based out of Sydney, Australia. The demonstration further builds SatSure's positioning within the space data analytics domain globally, with KaleidEO now adding the capability of analyzing satellite imagery at the satellite itself.
KaleidEO has built edge algorithms for cloud detection, road network and building footprint identification, water-body detection, and image template matching for change detection. The success of this technology demonstration is a ramp up to KaleidEO's own mission of launching four satellites in 2025, which would have this edge computing capability.
Rashmit Singh Sukhmani, Co-founder and CTO of SatSure said, "It is an important moment for SatSure and the Indian Space industry as KaleidEO becomes the first Indian company to unlock the potential of Edge computing in space. This capability will enable us to address national security needs, real-time disaster response by governments and revolutionize the way we collect, process, analyze and downlink imagery and insights from satellite data for the benefit of all."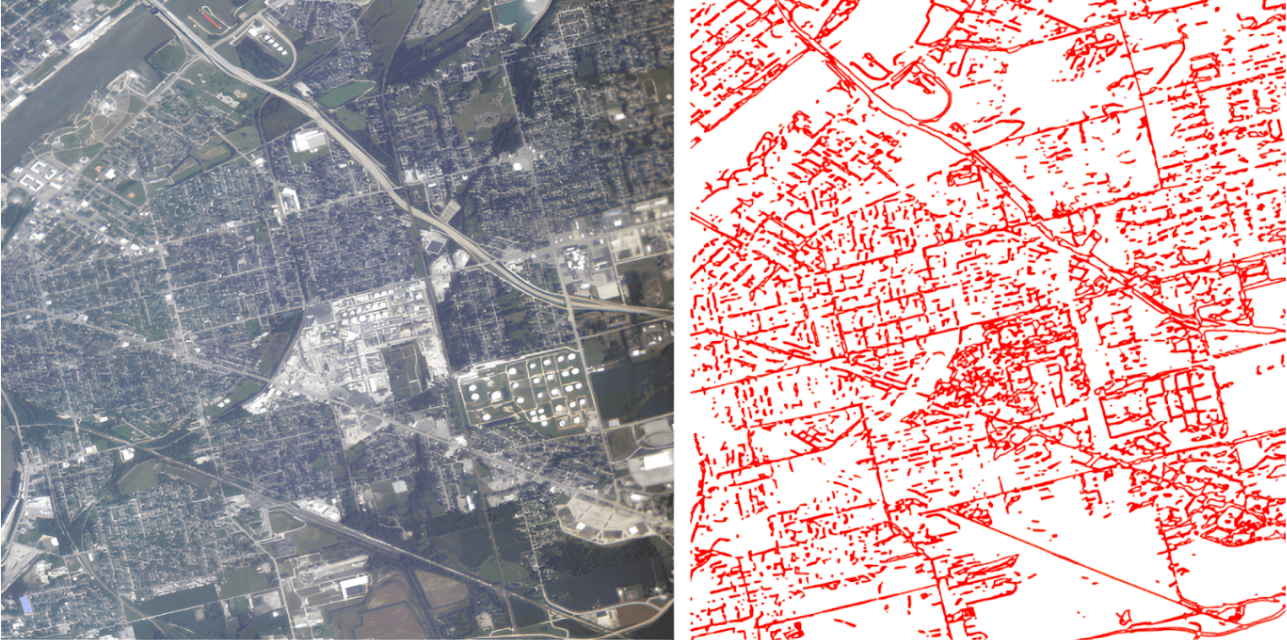 Photo caption: Zoomed image of the area of interest in Toledo, Ohio. Left Side: Image captured by Satellogic, Right Side: Model output for road network by KaleidEO
As part of this demo, a novel engineering pipeline was demonstrated that can handle various stages of the image processing and movement of data seamlessly. An efficiency of almost 80 times faster was achieved, and the data volume reduction between the input and output (analysis ready data) was ~ 99%, reducing the downlink cost. The demonstration was done on sub-meter resolution imagery, which very few companies in the world have achieved because of the challenges of handling larger sized images..
"We are thrilled to witness our groundbreaking achievement in Edge computing in space. This milestone reflects our commitment to innovation and our dedication to revolutionizing the space data analytics domain. With this technological advancement, we're not only propelling India onto the global stage but also empowering governments and industries to make informed decisions by increasing the value of information generated per bit",said Arpan Kumar Sahoo, COO at KaleidEO.
KaleidEO has plans for an aerial testing of its high-resolution high-swath optical and multi-spectral payload next month, whose success would lead to commencing manufacturing of the satellites and the payloads. SatSure recently announced closing its Series A financing round for $15 million, a major portion of which is going towards capitalizing KaleidEO. Current use cases which the firm caters to are spread across enabling farmer financial inclusion, improved debt service management in the rural areas, mortgage loan monitoring, enabling hyperlocal sales intelligence and distribution strategy for agrichemicals, aeronautical data management, vegetation monitoring for utilities, construction change detection, and commodities procurement intelligence, to name a few.
SatSure is a Deep-Tech, Decision Intelligence company headquartered in Bangalore, India. Leveraging satellite imagery and AI, SatSure provides valuable insights to industries such as agriculture, banking, insurance, and infrastructure. Their solutions empower clients to make data-driven decisions and drive sustainable development.
The company recently secured $15 million in Series A funding led by Baring Private Equity Partners India and Promus Ventures with participation from Omidyar Network India, and xto10X. Other investors include client turned investors ICICI Bank, HDFC Ltd and Kotak Mahindra Bank, along with Force Ventures, Luckbox Ventures, and IndigoEdge Advisors.
For more information, visit here.